Florida   Part I     State Line to Ft. Walton Beach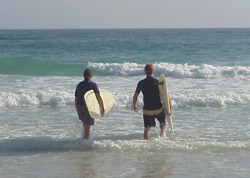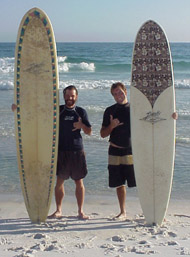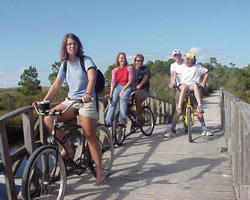 Sunday, December 9, 2001:  Gulf Breeze, Florida


We walked into Gulf Breeze on Thursday, and after picking up our bus tickets at the post office (we had ordered bus tickets to Oklahoma for a Christmas break,) we met a very nice guy named Clark.  After talking with him for a while, he asked us if we would like to go surfing with him this afternoon at Pensacola Beach, and of course we said, "Sure!"  Although Clark made it look easy, I was quickly reminded that surfing is much harder than it looks.  I did stand up on the board once (for a couple of seconds,) but most of the afternoon consisted of trying to paddle fast enough to get in front of a wave and watching it pass me by.
Heading out to surf with Clark


On Saturday morning we rode bicycles back down to the fort for a more standard daylight tour.  Riding a bicycle while in the middle of a walk across America always makes me wish that I had one.   Brandi and I are already talking about a ride across the country (or maybe just a state) someday when our walk is finished. 

We had a great time out at Fort Pickens with Clark and his friends from "The Bridge."  The Bridge is a group of young adults who get together for fellowship and activities like the Fort Pickens campout.  They also have a church service on Sunday nights at the Gulf Breeze Methodist Church.  We were invited to that yesterday. 
You can probably guess what we said to that invitation.
Brandi and some of our friends from The Bridge

(Carrie, Clark, Clint, and Ashley)


Surfing with Clark on Thursday was only the beginning of the time we would end up spending with him here in the Gulf Breeze area.  After surfing, he invited us to join him for a church campout at Fort Pickens on Friday night, so we decided to stay around another day.  It was a good decision. 

Friday evening, we cooked burgers at our campsite, laid on the beach while listening to the surf and staring up at the stars, and then we walked down to the fort for a late night tour.  Fort Pickens is a lot like Fort Morgan, except it was built out on the Santa Rosa Island and used to protect the Pensacola Bay during the Civil War.  Walking through the fort at night was especially creepy and probably somewhat illegal, but it sure was a whole lot of fun.

We have been staying here this weekend with Clark and his sister, Sue Ellen, and they have been most gracious hosts.  After church this morning, Sue Ellen let Brandi and I borrow her van, so we could drive back to visit the Naval Aviation Museum in Pensacola.  We had wanted to see the museum last week when we were walking through Pensacola, but we didn't want to walk the required six miles out of our way. 

The museum was fairly interesting, and the IMAX film on caving was pretty good, but I was glad we didn't walk an extra six miles last Wednesday to see it.  I was happy to get a closer look at the Blue Angels that have been flying over our heads practicing maneuvers since we reached Fort Morgan, Alabama.  They were parked at the Naval Air Station in Pensacola.  Seeing them fly over was always an exciting moment for about the first week, but after four weeks, it kind of became an annoyance.  The noise pollution was horrible in Pensacola.  One night last week, while sitting in our tent (that sounded like it was set up in the middle of a runway) and looking at maps, I counted five sets of runway systems in the Pensacola area.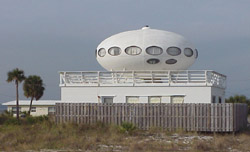 Spaceship house in Pensacola Beach

Monday, December 10, 2001:  Santa Rosa Recreation Area


We said goodbye to Clark this morning and walked across the bridge from Gulf Breeze out onto Santa Rosa Island.  We walked east on Santa Rosa Island through the community of Pensacola Beach and into the Santa Rosa Recreation Area, where we found place to camp in the sand dunes.  Not much happened today, but it was a beautiful cool day for walking along the coast.  We walked past a spaceship-looking house today that I thought was picture worthy.

Santa Rosa Island is a long and narrow barrier island that runs along the coast of Florida.  It starts underneath Pensacola and runs all the way to Fort Walton Beach.  It's probably about fifty miles long and less than a half-mile wide in most places.  We will be walking on the island for about twenty-five miles until we reach Navarre Beach, where we'll have to turn north and cross another bridge back to the mainland.  Past Navarre Beach is the boundary to Eglin Air Force Base where the island becomes an Air Force firing range, and although it would be exciting, we've decided not to try it.
Wednesday, December 12, 2001:  Santa Rosa Recreation Area


We have spent the past two days walking east through the Santa Rosa Recreation Area.  The weather has been cloudy and cool.   Once each day, we emerge from the sand dunes out to the highway that runs along the gulf side of the island to get drinking water from the restrooms and picnic areas on the beach, but then we head back across the dunes to the north side of the island and continue walking along the Santa Rosa Sound.  The north side of the island is all ours, and we have been thoroughly enjoying it.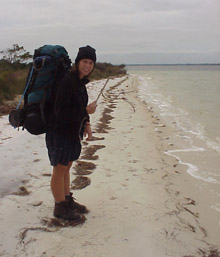 Thursday, December 13, 2001:  Navarre, Florida


We walked into Navarre Beach today after spending the past three days walking through the Santa Rosa Recreational Area.  We could tell that rain was coming this morning, and we walked in high gear-- trying to make it to shelter before it came falling from the sky.  The clouds broke loose about 9:00am, and we walked three miles in the pouring rain before making it to a Tom Thumb convenience store in Navarre Beach.  We decided to treat ourselves to a motel room tonight and dry out.

The hotels on Navarre Beach were far too expensive for our wallets, but the nice lady at the Tom Thumb told us that there were motels across the bridge in Navarre that were more our style (cheap.)  We set out for the bridge, and thinking ahead to a walk across a mile-long bridge, I stopped to use the bathroom at restaurant called Sailor's Grill right before the bridge.  A waitress named Jen had seen us carrying our large packs from the restaurant's window, and to my surprise, when I walked in to ask if I could use their bathroom, she asked me if we would like to come in for some cold drinks and to talk a while.

The folks at Sailor's Grill fed us leftovers from their Christmas party, served us plenty of cold drinks, and asked us lots of questions about our travels.  Jen invited us to stay at her house tonight, and we accepted her invitation.  Jen is a traveler as well, although most of her trips have taken her around Europe.  We have learned quite a few European travel tips from Jen, just in case a walk across Europe is in our future.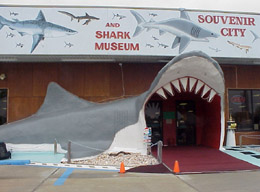 Saturday, December 15, 2001:  Gulf Breeze, Florida


We said goodbye to Jen yesterday morning and headed east on Highway 98 towards Fort Walton Beach.  I was excited about going into this Shark Museum on our way through Navarre, but my excitement turned into disappointment upon walking through the shark's mouth.  Inside, we found an enormous Florida souvenir store with a very small area to the side called a "shark museum."  They were using the old "shark museum" lure to get people like myself into their souvenir shop, and it worked quite well because there we stood among the postcards, bins of rubber sea creatures, sea shells, and sea shell nicknacks, wondering what had happened.  We didn't stay very long.
The "shark museum" in Navarre


Highway 98 was very busy, and it made the two-day walk to Fort Walton Beach seem kind of long.  We arrived in Fort Walton this afternoon and decided to end our walk for the year 2001 at the local Pizza Hut.  Brandi and I were famished, and we figured an all-you-can-eat buffet would be a good place to sit and wait for our friend Clark to come pick us up.  Clark has offered to take us to the bus station in Pensacola on Tuesday, and we're going to stay here in Gulf Breeze until then.
Monday, December 24, 2001:  Prescott, Arizona


Brandi and I are currently taking a holiday break from the walk.  Clark took us to the bus station in Pensacola on Tuesday, and we endured a twenty-four hour bus ride to Oklahoma.  From there, we drove our car out to Arizona to visit my parents for Christmas.

Things are good here.  My mom is involved with a soup kitchen for the homeless here on Monday nights, so we got to spend our Christmas Eve serving and talking with the people that came.  We are going to stay here for a week or two before heading back to Oklahoma to visit Brandi's folks and our friends who live there.  As of now, we are planning to resume our walk from Ft. Walton Beach in February.  We would like to enjoy walking along Florida's coast some more before the Spring-breakers arrive.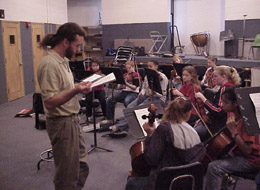 Wednesday, January 16, 2002:  Ponca City, OK


We're back in Oklahoma now.  Brandi and I have been substitute teaching to earn some extra funds over our winter break.  Things are good here, but as usual I'm looking forward to returning to the walk.  The weather forecasts from Florida look fairly warm, but with lots of rain-- so I guess it's okay that we're living in a house for now.  Substitute teaching has its ups and downs, as any job does I suppose.  I miss walking all-day and living in a tent, but I know that there is a time and a season for everything.

We are still planning to get back to the walk in mid-February, so we can walk along the coast for a few more weeks before the Spring-breakers start arriving.  I have this fear about getting hit by a 60 mile-an-hour beer bottle while walking along the side of the road.  It hasn't happened yet, and I would like to keep it that way.  At the first sighting of any carload full of what seems to be underage drinkers on holiday, we'll be taking a sharp left and heading north towards Georgia.
Substitute teaching orchestra in Ponca City